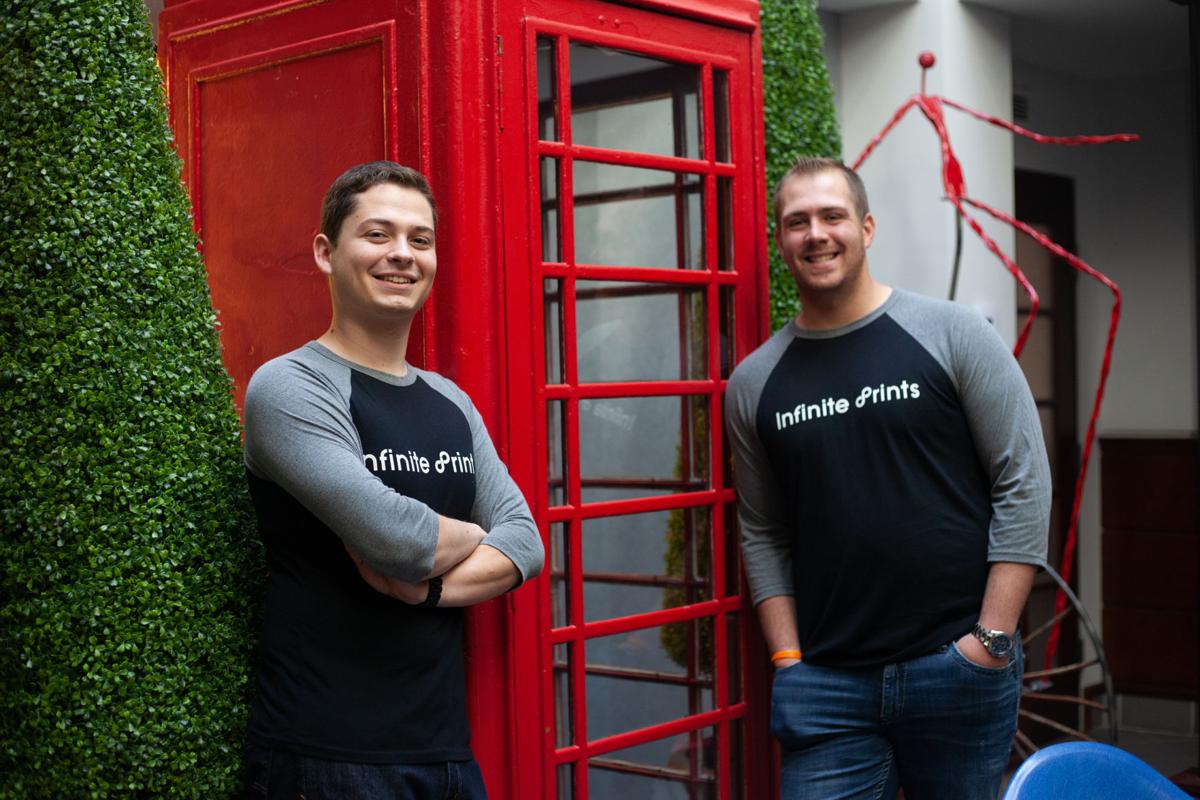 Dekota Gregory, Editor-in-Chief O'Colly, @dekotagregory
Pete Craver started with $100.
Craver, a mechanical engineering and technology junior at Oklahoma State University, is the founder of Infinite Prints, which prints T-shirts in Stillwater. He's also the president and director of operations of the company he created about six months ago. Daniel Woodruff, a marketing junior, is the director of marketing and Craver's business partner.
"The hardest part is just taking the first step and saying, 'I'm doing it,' and actually starting to do it," Craver said. "Some people are too scared to do it … We started with $100, that's what we started on, and now we're up to thousands."
Infinite Prints is Craver's second try at starting a business in college. His first, Start Up Supply Co., was an apparel company he started as a freshman. That business' goal was to resonate with other entrepreneurs. But that attempt was ultimately a building block for Infinite Prints and will be a key topic when Craver and Woodruff speak Thursday night at Fail Up Night, where OSU students share stories about overcoming failures while trying to jump-start a business plan.
"That kinda morphed into this, because I realized this was the need in Stillwater," Craver said. "There's a lot more opportunity."
Craver talks the most when he shares information about Infinite Prints. He could ramble on about the company's plans for the future: a website that's launching soon, how it's better than its local competitors, what makes it different. He and Woodruff cram all that information and more in their 10-minute pitch that's used to hook potential investors and customers.
Infinite Prints' first customer was the African Student Organization. Then it made shirts for Vine star Trey Kennedy's new kick-start campaign. From there, Infinite Prints grew from word-of-mouth, and Woodruff has developed more ways to boost the company, including a new website and Instagram page.
"I feel like everything we've learned up to this point so far, from me personally, in college, it's just kinda like a sketch or an outline," Woodruff said. "Then actually going out and doing it, you see there's a lot of stuff that's not filled in."
Instead of sitting next to the pretty girl in class, Woodruff asked the smart kid out to lunch. When the professor asked questions, Craver gave answers. Woodruff noticed Craver's intelligence and asked to be a part of whatever he was doing. Woodruff said he would volunteer as an intern. He was tired of just waiting and wanted to dive into the business world.
"He being an engineer-minded person and myself strictly business, we just mesh really well, and we both have solid communication skills," Woodruff said. "We have a really good divide-and-conquer attitude together."
Craver and Woodruff are two of a handful of students with offices at the Riata Center for Entrepreneurship in downtown Stillwater. The building is reserved for OSU students creating businesses while still in school, giving them a space to work and think. The area is decorated with giant checks from business plan competitions above the cubicles with shirts, bracelets and whatever else is created there scattered across desks.
Infinite Prints also has an office in the new Spears Business Building.
"They've (the business school) helped us so much between business-planning competitions and workshops, mentoring, connections," Craver said. "They provide the opportunity, but you have to be willing to meet them halfway and take it."
Craver walks in and turns on the metal shirt press on the desk in the corner of Infinite Prints' area of the Riata Center, created by three desks in half a square with a rack filled with shirts on the end. He and Woodruff then look over designs together as the shirt press reaches 375 degrees. When the temperature is met, Craver lays the design on the shirt before pressing it down. When the print is pressed and carefully peeled off afterward, Woodruff takes over, folding the shirt into a large envelope to ship.
It's only one shirt today, which is something Infinite Prints prides itself on, as most local companies require a minimum for an order of shirts. Most of the conversations while making the shirt involve ways to improve the company or attract potential customers. When the discussion isn't about Infinite Prints, it's about their next possible endeavor, their next goal.  
"Everything I've learned in college came from doing this business, probably, like 90 percent or more," Craver said. "This is real life. This is all the money I have, you don't have a student loan to pull from, you don't have some meal plan. It's like, 'This is the money, make it happen,' or, 'Yeah, you need to be done by this deadline.' Or people are gonna be mad at you, word's gonna get around, and you're screwed so you need to have it done on time, and you need to care about what you do, and you need to pay attention. You gotta have discipline to get up in the morning, get your ass out of bed and go do what you need to do in order to be successful."